Recessing Bushing
Designed to support Recessing Toolholders for I.D. recessing, chamfering, and backfacing. Also for similar O.D. operations requiring rigid thrust support. Click here to see typical recessing operation.
These bushings were developed to be used in conjunction with recessing holders. They provide high thrust capabilities required to activate recessing tools. Their unique design incorporates needle bearings for maximum radial load capacity as well as a thrust bearing for thrust loading. Recessing bushings can be used in any operation where high thrust and radial loads are encountered.
Specifications:
Rotary Bushings may be ordered with I.D. and/or tolerances other than standard.
Contact GATCO for sizes not listed here.
Design Drawings: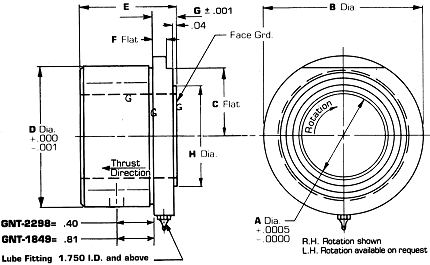 NOTE: metric dimension for A Dia. = -0.000 / +0.013 mm; for D dia. = +.000 / -0.003 mm; for G = ±0.025.
Lube Fitting (metric): 4.445 mm and above; GNTM-2298 = 10.16 mm; GNTM-1849 = 20.57 mm.