Arbor Bushings
Description
Milling machine arbor bushing supports receive the most abuse in milling applications, next to the cutters themselves. Quite often, however, milling arbor assemblies are designed and built with little thought given to proper mounting, fit or calibration of the precision bearings, resulting in chatter, vibration and premature failure of the cutters and bushings. Gatco Rotary Milling Arbor Bushings eliminate these problems.
Horizontal milling creates heavy intermittent radial loads on the milling arbor. Gatco Bushings provide the rigid support necessary to evenly distribute these forces, and their unique design allows them to rotate at high speeds virtually friction-free. They are capable of handling heavy loads and interrupted cuts while maintaining cutting accuracy.
Gatco offers a complete line of milling machine bushings for production machines as well as stand-alone horizontal milling machines. These bushings simply slip on the milling arbor at assembly and are secured when the arbor nut is drawn tight. All fitting and calibration is done by Gatco at the factory.
Features:
Helps dampen and evenly distribute cutting forces
Eliminates vibration, chatter, twisted arbors, frozen bushings, tool breakage, bearing collar wear and scoring, with substantial savings in milling machine maintenance
Eliminates excessive mounting clearances
Sealed to protect bearings from contamination
Unique cartridge design simplifies replacement
Incorporates heavy-duty bearings
Wide selection of l.D., O.D. and length combinations
Substantially increase maintainable speeds for advantageous use of carbide tools
Increase cutter life
Provide greater precision through increased rigidity of the arbor
Application Examples
Three types of milling machine bushings are available: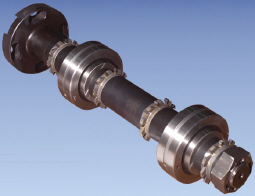 Outboard Support Bushings are mounted on the end of the milling arbor opposite the spindle. This bushing is critical because it has to be capable of handling the high forces generated by the cut and still have the accuracy to hold finish part tolerances. Most common applications include saw arbors, lock notch arbors, bulkhead arbors and half round arbors.
Mid-Support Bushings are mounted on gang arbors and can be positioned anywhere between the spindle and the outboard support bushing. Mounted directly on the arbor, the bushings may be incorporated either singly or in multiples for adequate support. Overall length is held so that they also act as a spacer. Most common applications include saw arbors, lock notch arbors, bulkhead arbors and half round arbors. Contact GATCO for sizes not listed here.
Tapered O.D. Bushings are most commonly used to support milling arbors on stand-alone tool room horizontal milling machines. They replace the tapered O.D. bronze bushings commonly designed into these machines. Contact GATCO for sizes not listed here.
Special Designs
Although a large number of dimensional combinations are available, Gatco Rotary Bushings may be designed and built to meet the requirements of particular applications. Considering the improvements in milling performance and tool life, Gatco bushings are a practical and economical addition to any milling machine. Gatco's Engineering Department can provide a special design to suit your specific requirements. Since all bushings are "made to order", Standard or Special Designs have the same availability and pricing.
Not all Milling Machine Bushings are cataloged due to the numerous variations. Contact GATCO for sizes not listed here.