Number Series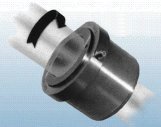 Recommended for use only when one end of the guided bar is rigidly supported in a spindle. Number Series bushings are rigid, friction free rotary guide or support bushings which incorporate a heavy duty, double row ball bearing. Number Series bushings are recommended when precision finish part tolerances are not required, in applications such as drilling.
Specifications:
Rotary Bushings may be ordered with I.D. and/or tolerances other than standard.
Contact Gatco for sizes not listed here.