GB Series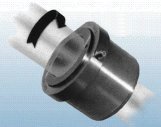 These bushings are for use with bars mounted rigidly in a spindle. GB and GBM bushings incorporate ball and retainer bearing construction. Because the balls are pre-loaded, running clearances are removed and more precise bushing runout is realized. GB and GBM series bushings are commonly used for precision line boring when the close centerline distance of the part will not accept the G and GM series.
Specifications:
Rotary Bushings may be ordered with I.D. and/or tolerances other than standard.
Contact GATCO for sizes not listed here.