Coolant Induced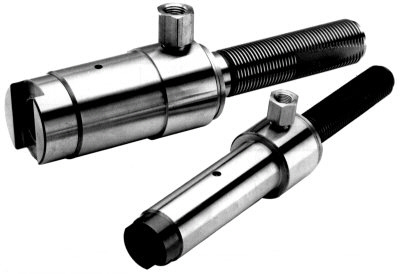 Gatco Precision Coolant-Induced Rotary Toolholders enhance the performance of cutting tools through their unique design. Anti-friction bearing rotation maintains tighter tolerances while the high pressure coolant flow produces better surface finishes. Commonly used for drilling, milling, boring, and porting operations, the toolholders may be adapted to any operation which can benefit from coolant being channeled to the cutting edge.With the high speeds necessary to cut certain materials, there is a need to blast chips from the cut with high pressure coolant. Pressurized coolant prevents tool breakage, dissipates heat and breaks chips as well as producing better surface finishes.
Gatco Toolholders also reduce costs by eliminating the need to modify or replace existing machines to obtain the benefits of coolant-induced machining. Many machine tool spindles such as multiple drill heads often cannot accommodate coolant through the spindle due to gearing or other obstructions. The Gatco Toolholder adapts to these machines easily for coolant delivery. Coolant-Induced Rotary Toolholders' compact design allows for minimal centerline distances between spindles. They are commonly used to replace solid holders and holders with wear strips.
Features:
Friction Free Rotation
Ideal For Multiple Spindle Applications
Improves Surface Finish
Reduces Downtime
Holds Tighter Tolerances
Flushes Chips From Cut
Replaces Conventional Toolholders
Design Information- Unique Construction
Coolant-Induced Rotary Toolholders consist of a rotating shaft in which the cutting tool is mounted, and an outer shell which houses precision bearings, providing support and friction-free rotation for the shaft. In operation, the shell pilots in a guide bushing, coolant flows through the inducer into the rotating shaft and out through the pores in the cutting tool.
The use of bearings not only eliminates friction and allows for higher rotational speeds, but also allows the shaft to rotate concentrically true to the seals in the coolant-inducer. This design concept prevents premature failure of the inducer seals due to misalignment as well as distortion caused by excessive starts and stops. All radial forces are absorbed by the bearings rather than the seals.